Remove the 'Open in a New Window' button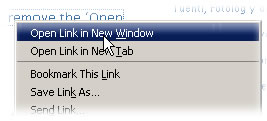 One of the best features in Firefox is Tabs. So why use windows? Two or three may be useful, but you may not use so much the 'Open in a new window' option to have it with the other common actions. Check out this neat tutorial to remove the 'Open in new window' option and save space and missclickings.
Decide when to open in a new tab or not
Did you know that when clicking a link with the middle button -or the wheel- of the mouse, you force it to open in a new tab?
Having such an effective way to decide where to open the new link in Firefox makes it annoying when a webmaster forces you to open the link in another window. With this hyper-small Greasemonkey script YOU can decide if you want to open the link in the same tab or not (left click or middle click, simple!).
Optimize loading time
Follow this nice tutorial to optimize the loading time of Firefox 3.
Avoid the annoying Restore session dialog box
I nearly always want to restore the last tabs even when Firefox closed unproperly (if not, I would open it in Safe mode), so here is a trick to tell Firefox to avoid popping up the dialog box:
Auto restore previous session and tabs without prompting message box
Type about:config in the browser
Promise to be careful
Find this row:
browser.sessionstore.resume_session
Set it to True
Firefox extensions
Must-have extensions:
For web developers:
Security:
You may also like:
Firefox Custom/Smart Keyword Search
This trick is awesome. You can search everywhere without having to go to that page, needs some preparation but it is really worth it.
There are tons of tutorials so I will link to them:
Firefox profile
The intention is to save the maximum screen resolution but still be able to access anywhere in 2 clicks.
[screenshot]
[to be continued…]
Uninstalling Internet Explorer
If you are not a developer and don't need to check cross-browsing issues and stuff like this and you have Firefox installed and customized to your own needs, why have Internet Explorer crappy buggy security hole? You may want to uninstall it. Google is full of resources and tuts on this.
All images are under under a Creative Commons license and found at Flickr.